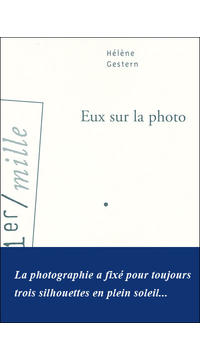 " Eux sur la photo "
novel
Arléa
Hélène Gestern is forty years old. She lives and works in Nancy.
"A small ad in a newspaper like a bottle thrown into the sea. Hélène seeks the truth about her mother, who died when she was three years old. Her indications: two names and a photograph found in family papers, showing a happy and carefree young woman, surrounded by two men that Hélène does not know. An answer comes: Stéphane, a scientist living in England, recognizes his father.
Then begins a long correspondence, strewn with clues, first tenuous and then more disturbing. Patiently, Hélène and Stephane go back in time, stripping their family archives, scanning photographs, searching in their memories. Gradually the stories overlap, come together, forming a different story to what they were told. And their unexpected discoveries, in turn, question the look they had on their family, their children, their own lives.
With 'Eux sur la photo', Hélène Gestern gives us a wonderful reflection on family secrets and the particular memory set by photography. She suggests that the unveiling of unknown elements, solving riddles set in the past is not enough: what matters is how we understand them and that we accept that they might change, or not, what we are. " (presentation by the editor)
"This first novel is a success, the pen is delicate, the story is poignant and we let ourselves be carried by the emotional side of the letter writing so brilliantly mastered. In short, a lovely discovery! "(La Croix, 13 October 2011)
In the meantime, how ironic it is to think that the result of our research depends upon improbable memories of a man with a partly dead brain and an old woman with a devastated memory. Curious comparison of this present that we revive from the ruins of paper, one photo at a time.