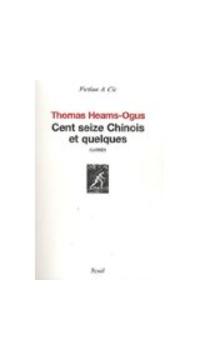 " Cent Seize Chinois et quelques "
Novel
Editions du Seuil
Thomas Heams-Ogus is 34. He is a research professor in biology.
"It takes place between 1941 and 1943, in Abruzzes. Not far from the Gran Sasso mountain which imposes its overwhelming telluric force like a shadow carried on time. By one of these absurd and harmful decisions that fascism is fond of the Chinese in the peninsula were all interned here and form a strange community, whose silence is perhaps the best protection. They are at one point a hundred and sixteen, sometimes less sometimes more
Life goes, aimlessly and without substance. One day, the authorities organized a grand ceremony, humorous and senseless, conversion to Catholicism. Then the work resumed, the fields or elsewhere, in a mixture of boredom, confusion and false resignation, until everything is moving and where the group disperses.
Is it because they were a silent, disciplined mass, is it because they came from elsewhere, from the Far East, that history has erased them?
The author, by restoring a forgotten page of Mussolini's Italy, offers a metaphor of exile, immigration and the threat of intolerance." (Introduction by the editor)
"Of this page of unknown history, Thomas Heams-Ogus draws a beautiful parable about exile and intolerance. These men left their homes to rebuild a life in Europe, were only trying to settle. For a long time, their presence was unnoticed, their accent and their trades were made, for the Italians, the evocation of an exotic inaccessible. East With a gesture from Mussolini and his henchmen, the men with different faces became potential enemies. The author, with muffled words, decrypts this spiral, this way of erasing some people from the world. No physical violence, no torture mentioned in this first novel, but a detailed and frightening description of an absurdity. And, beyond the desire to understand the origins of intolerance and divewith a poeticphrase simple and confusing, into the madness of a power as peremtory as noisy. (Christine Ferniot, Télérama for September 2010)