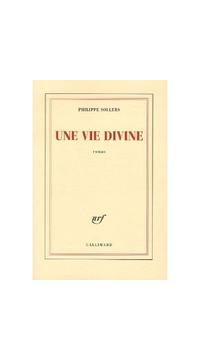 " Une vie divine "
Editions Gallimard
Born in 1936 in Talence (near Bordeaux), Philippe Sollers published his first novel at twenty-two years old, Une curiouse solitude, which is welcomed by both Mauriac and Aragon.

Giving up, however, the successful career that seemed to await him, Sollers became a leader of the literary avant-garde. He founded the journal and collection Tel Que, a chosen place for the structuralist critiques and writes researchal works that are marked with the influence of modern names such as Joyce, Bataille, Artaud and Céline.

Founder in 1983 of the journal collection l'Infini, he published numerous essays on literature and art: Théorie des exceptions (1986), Carnet de nuit (1989), Improvisations (1991) and the preface to Letters à la N.R.F. Celine. Also in 1983, he published a book accessible to a wide public, Femmes, describing with caustic humor manners and fashions of the seventies.

In the same vein are inspired the following novels, Portrait du joueur (1985), Le coeur absolu (1987), Le lys d'or (1989) or La fête à Venise (1991), where we find the intellectual ferment characteristic of a writer who, without ceasing to be an ironic witness of this "société du spectacle" that is ours, is gaining ground, with his freedom of spirit and style, as one of the most brilliant heirs of the eighteenth century.

Le secret (1992), re-written confession of a secret agent, which covers several crucial points about "the other side of contemporary history" (the attack on the Pope in Rome, the rise of corruption...) or in Studio (1997), a novel which talks of poetry, that of Rimbaud or 'Hölderlin, the "société du spectacle" and the role of the writer, Sollers revolves around the same question: what is the life of a writer like in the late twentieth century

The years 1996-1998 were a particularly prolific for Philippe Sollers, who publishes several essays: Picasso, le héros, Les passions de Francis Bacon, or Sade ou l'être suprême; Casanova l'admirable. Philippe Sollers is never as pertinent as when he talks about issues that affect him closely, and, whether it is about Casanova or Sade, he brings back to us two people in the throes of literary creation and making pure pleasure the focus of their research.

In 2000 Sollers publishes Passion fixe, a romantic novel, tender and moving, probably the most intimate of the author, moral and immoral at the same time. "A wonderful novel, rebellious and anti-depressing, thumbing his nose to a ship of fools, Passion fixe poeticizes a refusal to finish." (JL Doin, Literary Magazine)

Love leads the way. Everyone is free to accept or reject it, to stay in hell or go to heaven. Here again the central idea is advanced by Philippe Sollers in La Divine Comédie (2000), a collection of interviews with Benoît Chantre, a radiant restudy
of the work of Dante.

For a long time, Philippe Sollers has made of the eighteenth century his prediliction, dedicating books and articles to it: Les surprises de Fragonard, Le cavalier du Louvre Vivant Denon, Casanova l'admirable... and, more recently, Mystérieux Mozart (2001). We know, since Une curieuse solitude, that the literature of Sollers is music: the references to it are endless. In Femmes déjà: "He who does not understand music can not understand metaphysics."

But more than a century of preference, more than music, art, literature, Sollers has, since 1963, a favorite spot, a place that brings together all his personal pantheon: Venice. Da Ponte,Vivaldi,Tiepolo,Tintoret,Titien Véronèse... and then Casanova "the man whose name is synonymous with Venice", Vivant Denon and the countess Albrizzi... Intimate experiences, notations, sensations, learning, Sollers gives us the glories of the Sérénissime in a Dictionnaire amoureux de Venise (2004) very personal.

Always intellectual in Une vie divine (2006). The narrator, a professor of philosophy, was given the task of thinking of a philosophical world which would not exclude the religious dimension of humanity. Through his research and discussions with the two women in his life (one intelligent and the other frivolous) he discovered that a single thinker appears solid enough to make a global project on world philosophy: Nietzsche. But Nietzsche rid of rags, "neither mad nor fascist, but charming" in short, a "terribly sollersien Nietzsche" (P. Besson, Marianne No. 79).

With this new novel, Philippe Sollers protests against the contemporary nihilism - literature of the impasse, misfortune and melancholy - with which he contrasts the promise of life and happiness.

A political book and philosophical novel, une vie divine is a serious and funny text on the possibility, not of an island, but to be happy. Nietzsche against Schopenhauer. The praise of joy against sadness and ambiant defeat.