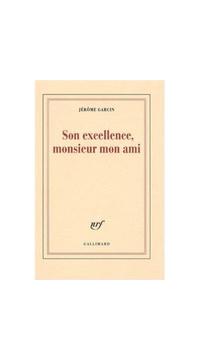 " Son excellence, monsieur mon ami "
Story
Editions Gallimard
Born in 1956, Jérôme Garcin starts very early in the journalistic career by entering the Nouvelles littéraires in 1977. Producer and host of programs Ouvert le dimanche and Boîte aux lettres FR3 (1981-1987) and Permission de minuit of TF1 (1987), he was news editor of l'événement du jeudi from 1989 to 1994 and chief editor in l'Express until 1996. He is now producer and host of the Masque et la plume on France-Inter, and since 1996, deputy editor of the Nouvel Observateur, in charge of cultural pages.

His first publications are books of dialogues: Interviews with Jacques Chessex (1979), Si j'ose dire, interviews with Pascal Lainé (1982), L'école buissonnière, interviews with André Dhôtel (1983), De Montmartre à Montparnasse, interviews with George Charensol (1989).

We then credit him with two superb essays: Pour Jean Prévost (1994, Prix Medicis de l'Essai et Grand Prix de l'Essai of the SGDL) where, intimately mixing the work and life of the author of Dix huitième année, Jérôme Garcin rehabilitates a great mind, a model humanist, and in Littérature vagabonde (1995) where, as a worthy successor of Jules Huret, he travels France in search of writers, believing as hard as iron in the superiority of literature on tourist guides." This book says more about the writing profession than many essays. He raises the neighborhood survey and the art of dawdling to the rank of literary necessity "(Gérard de Cortanze).

In 1998, Jérôme Garcin published his first story, La chute de cheval. Between disguised autobiography, (his father died in the forest of Rambouillet falling off a horse), and the celebration of equestrian art, the author wrote a book saying "the partition of the deadly gallop whose haunting music in triple time never stops singing, banging in [his] head."

In 1999, he published Barbara, claire de nuit, a vibrating tribute to the dead singer, and in 2000, his first novel, C'était tous les jours tempête.
The title is taken from a sentence of Rouge et le Noir by Stendhal, C'était tous les jours tempête is an epistolary and historic novel that relates the rise and t fall of Marie-Jean Herault de Sechelles. A secret story of misdirection, but also a love story of a convict who writes vibrating confessions to Madame de Sainte-Amaranthe.

In January 2003, he published Théâtre intime, a long declaration of love to Anne-Marie Philipe, his wife and the mother of his children, to whom this book is dedicated." I could not have loved without admiring" so begins Théâtre intime, the theater of his love for an actress crushed by the weight of her legendary father. To love an actor, someone who, on stage, belongs to others, is a singular experience that Jérôme Garcin described meticulously, in an overwhelming way, without for as much forgetting humor.

Another declaration of love with Bartabas (2004), the most inspired and most romantic of squire-directors. If we already knew Jérôme Garcin's love for horses, this novel reveals his friendship with Zingaro, "the companion, the accomplice, the brother he so hoped for." (Homeric, The Literary Magazine, September 2004)

With Cavalier seul (equestrian newspaper), published in January 2006, the novelist puts an end to the adventure began with La chute de cheval in 1998: "I will not write about horses again. I have completed the story of what is intimate. I slowly come to the end of my grieving "because" I am convinced that, in the exploration of my wild intimacy with the animal, I will not go beyond. I have said everything in my own way. I now want to write about what I do not know yet."

It is therefore natural that Jérôme Garcin returns to novels with Les soeurs de Prague (Gallimard, January 2007): nowadays, a mediocre writer suddenly obtains unexpected success with his latest book. He is noticed by the director of a literary agency that convinced him to join her "team" of authors." From comedy to tragedy, Les soeurs de Prague reveals, through fiction, the sometimes ambiguous practices of literary and artistic agents, long established in the anglo-saxon world, but newcomers to France." (Note by the Editor)

Ten years after the death of the enigmatic François-Régis Bastide, Jérôme Garcin publishes Son excellence, monsieur mon ami (Gallimard, 2008), a wonderful tribute to the author of La fantaisie du voyageur, to the founder of le Masque et la Plume, to the French ambassador in Copenhagen and Vienna, this writer-musician who has meant so much to him, and that time has forgotten.

"Jérôme Garcin is not resolved to accept the disappearance of his old friend, adorned with all gifts, beginning with the one to seduce and please. A lot and often. He dedicates to this perfect friend a story of high quality, beautiful and trembling, to steal from night of forgetfulness his part of eternity. He only conceives his elective affinities sealed by a grateful loyalty that he unfolds, from book to book, to greet the living and the dead of his intimate theater. (Jean-Claude Raspiengeas, La Croix)