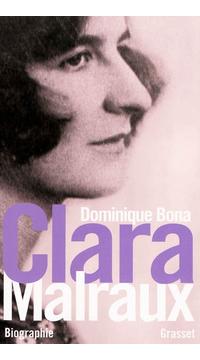 " Clara Malraux "
Biography
Editions Grasset
Born in 1953 in Perpignan from a Catalan family, Dominique Bona is the daughter of Arthur Conte, writer and politician. Associate of Modern Literature, she worked as an assistant France Culture and France Inter from 1976 to 1980 before becoming a journalist and literary critic at Quotidien de Paris (1980-1985) and Figaro litteraire since 1985.
Dominique Bona enters literature with novels Les heures volées (1981) and Argentina (1984) before turning to biography which constitutes the bulk of her work: Romain Gary (1987), Les yeux noirs ou "les vies extraordinaires des soeurs Hérédia" (1989).
In 1992, she published Malika (Prix Interallié), the story of a young and attractive Moroccan of Berber origin,who enters the small, futile, posh world of a family on holiday in St. Tropez, before devoting a biography Gala (1994, Prix Méditerranée) and Stefan Zweig, l'ami blessé (1996).
In 1998, she received the Prix Renaudot for Le manuscrit de Port-Ebène , the diary of a young girl from a noble family in Vendée, who takes on her personal revolution, organized in Haiti between 1789 and 1793. In 2000, Dominique Bona is rewarded with the Goncourt grant Berthe Morisot, the secret of the woman in black , where she pays tribute to the only woman in the group of the Impressionists.
With Il n'y a qu'un amour (2003), she offers a Biography of Andre Maurois both confused and inspired. "To do this she chose to look at the three women who held in the life of Maurois, dissimilar roles, but equally essential. [...] Each one having a different place at his side. But all three provide the main substance to his romantic work. Dominique Bona gives by a joint reading of the turbulent life of the writer and the books that followed." (Jean-Claude Lebrun, L'Humanité, July 24, 2003)
In La ville d'Hiver (2005), initiative journey into the elusive and dangerous lands,the novelist asks: How does one learn to love again
In 2006, Dominique Bona publishes Camille et Paul, la passion Claudel, where she reunites for the first time, the passionate destinies of Claudel, brother and sister.
Continuing her work as a biographer, she delivers Clara Malraux (Grasset, 2010) in which she "paints a beautiful portrait of the surprising couple formed by André and Clara Malraux... Clara loves this complex man, understands him, suffers him, is annoyed by him. He is bright, whimsical, selfish. She is more sober and austere, in some ways more profound than the flamboyant Prix Goncourt in 1936. [...] The author of Il n'y a qu'un amour and Camille et Paul , who knew Clara, wrote the story of this legendary couple by placing them face to face like two mirrors which reflect to infinity, while moving away. In contact with Clara, André illuminates like a singular light, more in line with reality." (Etienne de Montety, Le Figaro , January 14, 2010).
In October 2010, Dominique Bona publishes Camille Claudel, la femme blessée (Eighth Day) in which she returns to the artist's destiny and her relationship with Rodin.