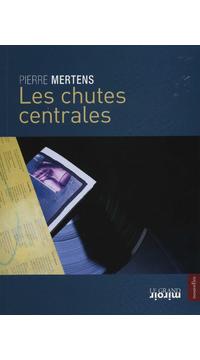 " Les chutes centrales "
Collection of short stories
Verdier, 1990
Born in 1939 in Brussels, Pierre Mertens wrote short plays as from the age of 11. The Algerian question aroused his "political consciousness" and he began studying international law at the Free University of Brussels, where he eventually directed the Centre of Sociology of literature. In 1989, he entered the Royal Academy of French Language and Literature in Belgium where he had been a literary critic in a Belgian daily newspaper Le Soir since 1971.


Influenced by Franz Kafka, he began publishing novels and short stories. Most of his heroes are characterized by a hidden wound, like the child of India or America (1969), the protagonists of Niveau de la mer (1970), or the family trio La Fête des anciens (1971), de Nécrologies (1977) and d'Ombres au tableau (1982). Against a historical background his characters rebuild themselves after a breakdown or a tragedy.


Not as intimate, Les bons offices (1974) and Terre d asile (1978) immerse the characters into the turmoil of the contemporary world. The Belgian story is presented through the eyes of a stranger and takes on a new meaning.
Strongly influenced by music that permeates his work, he wrote an opera libretto, La Passion de Gilles (1982) which was set to music by Philippe Boesmans.


In 1984, Pierre Mertens changed his style and subject with Perdre, a unique novel, dealing with the madness of love. The same year, he returned to the news with Terreurs, which made a particular reference to the change of the political regime in Greece.


Iles éblouissements (1987 - Prix Médicis), the writer reinvented the miserable and glorious existence of Gottfried Benn, an ambiguous intellectual of the twentieth century who little by lttle had gradually joined the ranks of the Third Reich.


In 1995, Une paix royale triggered off a scandal implicating the royal family through a story that combined fact and fiction.


In 1999, in Tout est feu, he addresses his readers with a message of lucidity, vigilance and hope: "A work of Art is not there to console or to offset or balance evil. It is a small modest weapon, to turn back the wicked for the cost of a certain magic, for the price of a sort of shamanism. And I believe in this kind of spell. "


Pierre Mertens published in 2001, Perasma, a novel of love and music:" This swan song of the birth of love, burns and fades, is like the ultimate jolt of a distraught lover of a paradise lost." (Marie Alstadt, Reading, May 2001)


In 2007, the Grand Miroir reedited Les chutes centrales (Verdier, 1990),a collection of short stories about meeting people, collisions, reunions and various losses. The chronicle is claimed to recount of a destiny or of an instant. But something is still missing. In designating this lack that life suddenly goes back into action through words. Or at least its motion, its mystery." (Introduction by the editor)


Peter Mertens has just published two books: Le don d'avoir été vivant (Scriptures, September 2009) and Paysage avec la chute d'Icare. (Sueil, September 2009).