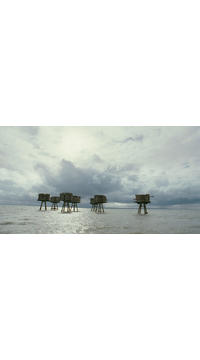 " Subconscious Society, a Feature (2014) "
35 mm film, color, sound, 40')
Nominated by Chiara Parisi, Director of Cultural Programmes at Monnaie de Paris
Berlin-based, Italian artist Rosa Barba has been awarded the prize for her work that engages with questions of time like inscriptions in landscapes and language, cutting across history and subject matter. Barba is particularly interested in abstracting the cinematographic medium, pushing it to its limits and possibilities by creating 3D installations involving sculptures and publications. Subconscious Society focuses once again on her interest in time's materiality. The work was partly filmed in Manchester's Albert Hall and around a flotsam off the North Kent coast. Both abandoned spaces are re-inhabited in Barba's Subconscious Society blurring the boundaries of time and place. Evolving versions of the film have been screened in New York, Manchester, and Margate, as well as at the 2014 Berlin Biennale.