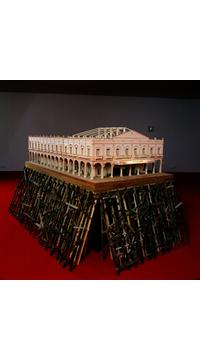 " Carta a los censores "
Installation
Born in 1967, Havana, Cuba. Lives and works in Havana.

Solo exhibitions
2005
Self-flagellation, survival, insubordination
Aspen Art Museum, Aspen, USA
Contemporary Art Prize, Prince Pierre Foundation, Monaco Fonda
Capablanca's real passion
Museum of Contemporary Art, Los Angeles, United States United
Vamos fazer barulho agora, porra! with Ezequiel Suárez
Habana Gallery, Havana
Postcapital
Virreina Palace, Barcelona, Spain Carlos Garaicoa Speaking
Gallery Continua, San Gimignano, Italy
2004
La misura di quasi tutte le cose
Palazzo delle Papesse Centre of Contemporary Art, Siena, Italy

Group Exhibitions
2005
Dialectics of Hope I
Moscow Biennale, Russia
II International Biennial Sharjah, United Arab Emirates
LI Venice Biennale, Italy
Sitios apart: Crisis urbana y Sintomer domésticos en el Arte Contemporaneo reciente
Tijuana Cultural Center Art Museum in San Diego, San Diego and Tijuana, Mexico - United States


Public installations
2004
Il cacciatore (El Cazador)
La misura di quasi tutte le cose,
Palace delle Papesse, Siena, Italy


Prizes
2005
International Contemporary Art Prize of the Prince Pierre Foundation of Monaco
Katherine S. Marmor Award, Los Angeles, USA
He lives in Havana. He evokes in his photographs, his installations, his sculptures, the complex mind of this city imagined as sumptuous but now fragile and threatened by ruin. The artist builds a disturbed map, emotional, and critic not unlike the tradition of travel writers and landscape painters of the nineteenth century. It is in this mythical world that the works of Carlos Garaicoawere elaborated, Carta a los censor, proposed by Lorenzo Fusi, director of the Palazzo Delle Papesse Centro Arte Contemporanea in Siena, caught the attention of the Foundation's Jury of the International Prize of Contemporary Art 2005.

"This is a project that denounces the destruction of sites created for the images: of course bringing to mind the cinemas of the 30, 40, 50 and 60 who have been abandoned and are now in ruins and forgotten. The set of photographs I made in Havana are witness to this. It is a nostalgic reference to the places that once occupied our daily lives. This is the first part of my job. The second part is the construction of a cinema that I imagined as a model. In this cinema, a list of films that were censored from the beginning of film history is projected onto a blank screen.

To these images of decadence, represented by the photographs of old ruined buildings, the idea of their screens permanently black and their absolute lack of image, opposes the perfection of the model of the new cinema with red velvet chairs, accentuating their empty places ... It is only for us to win a place: not the one to watch, only not to forget."
Carlos Garaicoa