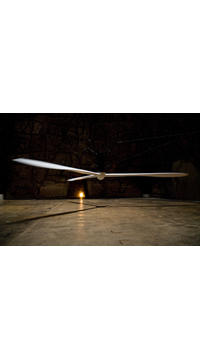 " Some Airing, 2008 "
Installation
Work sponsored by Enrico Lunghi, Managing Director of MUDAM, Luxembourg.

Some Airing is a work produced as part of
L'Art en Europe: Expérience Pommery#5, 2008 with a slightly different version was presented first in a former military site in Taiwan. This is a huge propeller, placed horizontally, with the mounting ultimately simple, disappears in favor of the visual presence of the three impessive blades.